The most-played game on Steam.
Every day, millions of players worldwide enter battle as one of over a hundred Dota heroes. And no matter if it's their 10th hour of play or 1,000th, there's always something new to discover. With regular updates that ensure a constant evolution of gameplay, features, and heroes, Dota 2 has truly taken on a life of its own.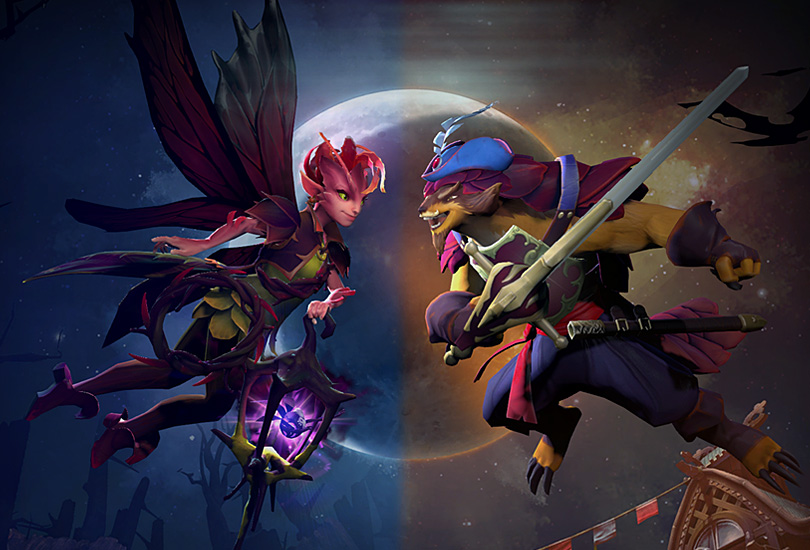 Dota 2 is amongst the most played games when it comes to MOBA. Record breaking history when it comes to prize pool in "The International", Dota strategically captures major market of casual and professional gaming in India.
Prize : 
1st Prize : 25,000 INR worth of Cash / Goodies / Mix
2nd Prize : 10,000 INR worth of Cash / Goodies / Mix
Game : Dota 2
Mode: 5v5 (Bo1) Single Elimination
Allowed Teams : 32
Venue : LPU (Auditorium)
Registration : Online
Dates : 19th & 20th March – Qualifiers | 21st and 22nd March – Grand Finale
Tournament Format
Game: DOTA 2
Mode: 5v5 (Single Elimination) 
Game Mode: Captain's Mode (CM)
Matches : Best of 1(Bo1) till quarter finals, Best of 3(BO3) Semi & Grand Finale.
Sides: (Radiant / Dire) will be determined by the host.
First Ban: Dire team.
Victory condition: The first team to destroy the other team's ancient.
LOBBY SETTINGS:
Mode: Captains Mode (All Pick when a rehost is needed [same hero, same player])
Server: Singapore/Local
Spectators: ON
Password: will be given during the tournament.
First Ban: Dire Team
Spectator delay: two (2) minutes.
Specific Rules:
During the tournament all members team must have their team tag during the event.

Players must be prepared before their scheduled games.

All competitors must be present 15 minutes prior to their scheduled match.

Teams who fails to join the room at the first fifteen (15) minutes from the start of their schedules will automatically lose at the game one (1) of their match series. (excuses are not entertained, even if the game is updating, etc.)

Players who are registered must be the one to play. If a reserve is needed, only the listed reserves will play.

Final calls are irrevocable.
ADMINISTRATION
1.1 Everybody who is authorized by Drag2Death to administrate the competition based on its rules and regulations will be called an "admin" or "moderator" in the following, the collectivity of all admins will be called the "administration".
1.2 A admin is allowed to ignore or overrule any of the following rules in order to make the competition as fair as possible.
PARTICIPANTS AND TEAMS
Everybody with a valid steam account is allowed to participate in the competition and will be called "participant" in the following. Participants joining a team in order to fulfill the minimum required amount of team members will be called a "team".
GAME COMMITMENTS
3.1 By attending the competition participants acknowledge without limitation to comply with the rules and regulations and with the decisions made by the referees.
3.2 Every participant has to show the needed respect towards admin team and other participants. Insults and unfair or disrespectful behaviour towards anyone are not tolerated and will be banned from participating in the tournament in a specific time period.
3.3 Every participant must always have the newest version of steam and Dota 2 installed and has to check for updates in time before each match. Patching is not a valid reason to delay a match under normal circumstances.
SUBSTITUTIONS
4.1 The tournament official or moderator must be informed if any substitutions are to be done.
4.2 Substitutions can only be done before or after a match is done and not during the match.
4.3 The substitute player must be registered with the team prior to the game.
4.4 The substitute player for the team must not be playing for any other team in the tournament.
GAME RESTRICTIONS
5.1 The sharing of basic regeneration items, consumables, and gems are allowed. Items shared may not be kept or used for any other purpose (ie reselling).
5.2 It is not allowed to purposefully suicide to drop item for another player.
5.3 Backdooring is allowed.
5.4 Any cheats, hacks or exploits are illegal and not allowed in play. A punishment will be serve to the offender which will be determined by the administration.
PAUSING THE GAME
6.1 If any player disconnects during a match, the game will be paused (default is F9) until the player has reconnected.
6.2 Pausing is not used for any other reason other than disconnections and hardware malfunctions.
6.3 Each team can only pause the game for not more than 5 minutes.
6.4 If 5 minutes have passed and the disconnected player has not returned, then the game would be resumed regardless if the player would reconnect or not. (if the same person disconnects more than once, all times get added up)
DETERMINING MATCH WINNER
7.1 A game is finished, when an Ancient Fortress is destroyed, when one team obviously forfeits, when the majority of a team leaves on purpose, or when the administration decides on it.
7.2 Any team that fails to appear for any scheduled Standard Match will be charged with a forfeit. Similarly, a forfeit will result when a team does not have the minimum number of required players in the time allocated to start a match. A Standard Match forfeit will count as a loss. Standard Matches include any match that is not in the qualifier.
7.3 The game will be played in a single elimination match. Match schedule will be provided at website after the registration deadline.
GAMING ETIQUETTE
8.1 No trash talking. Warnings will be given on first offense, second offense will be disqualification.
THIRD PARTY SOFTWARE
9.1 The use of any third-party add-ons, hooks, programs or wrappers that interact with or alter the Dota 2 client, its appearance or behavior for the purposes of gaining an unfair advantage is prohibited.
9.2 Players and teams caught using such add-ons will, at the discretion of the tournament administrators, be removed from the tournament and forfeit any prizes awarded by their position.
9.3 Third party voice communication software such as (but not limited to) Ventrilo, TeamSpeak and Mumble are allowed.
RULE VIOLATION AND PUNISHMENT
Breaking of the rules or ignoring the order of an admin may result in a punishment. Type and amount is chosen by a admin.
Possible Team Punishments
     – Default Loss / Null Game
     – Score Reduction (during a group stage)
     – Temporary or permanent ban from the competition
     – Ban from other competitions
Possible Player Punishments
     – Temporary ban from the competition
     – Permanent ban from the competition
     – Ban from other competitions
PRIZE MONEY DISTRIBUTION
The prize money will either be cash or equivalent gaming products .Payment methods is bank transfer. The prize money will only be transferred to the team leader/Captain. The team leader has to make sure every team member receive their even share. Prize money will be distributed within 45 days after the tournament ends.
Refund
There will be no refund if any team or player does not show up at the venue.